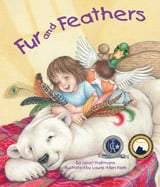 When Sophia dreams that howling winds whisk the fur and feathers right off her animal friends, she shares some of her clothes with them. But her clothing doesn't work well for the animals. Seeing their disappointment, she offers to sew each one the "right" coat. Animals line up to explain what they need and why. Polar Bear needs white fur to stay warm and hide in the snow. Fish needs scales, but with slime. Snake needs scales too, but dry ones. And how will Sophia make a prickly coat for Porcupine? The award-winning team of Halfmann and Klein (Little Skink's Tail) reunite to bring animal coverings (and classification) to life in an imaginative way.
Written by Janet Halfmann
Illustrated by Laurie Allen Klein
32 pg, 10 x 8.5, Ages 4-9, Grades PK-4
Lexile: AD 750, AR: 3.3, RC: 3.6, F&P: M
Hardcover ISBN: 9781607180753, $16.95
Paperback ISBN: 9781607180869, $8.95

Educator Keywords:

animal classification, animal classification, skin coverings

Animals in the book:

duck, snake, frog, polar bear, snail, ladybug, porcupine, fish

Purchase:
"Sylvan Dell has published a wealth of books that integrate concepts related to science or nature with stories that children can read and enjoy. Author Janet Halfmann and illustrator Laurie Allen Klein combine to bring the ideas of animal coverings and classification to life in an imaginative way."-Homeschool Book Review
"As a librarian, I loved that my boys were learning about animals while being engaged in the story. If you are looking for a fun and educational story for your children, this is one that they will love." -Honey Mommy
"Fur and Feathers is a delightful story from the award-winning team of Janet Halfmann and Laurie Allen Klein. Halfmann's unique and engaging story is perfectly complemented by Klein's stunning and beautiful artwork. Young readers will be captivated by this tale of a young girl who helps out her furry and feathered friends. This book takes the idea of counting sheep to an all new and fun level." -Cheryl Malandrinos
Author/Illustrator Info:
Janet Halfmann is the award-winning author of more than thirty fiction and nonfiction children's books, including Home in the Cave, Fur and Feathers, and Little Skink's Tail for Arbordale. Other recent titles include Eggs: 1, 2, 3; Star of the Sea: A Day in the Life of a Starfish; Good Night, Little Sea Otter; Garter Snake at Willow Creek Lane; and Seven Miles to Freedom: The Robert Smalls Story. Janet is a member of the Society of Children's Book Writers and Illustrators. Before becoming a children's author, Janet was a daily newspaper reporter, children's magazine editor, and a creator of coloring and activity books for Golden Books. She is the mother of four and the grandmother of four. When Janet isn't writing, she enjoys gardening, exploring nature, visiting living-history museums, and spending time with her family. She grew up on a farm in Michigan and now lives in South Milwaukee, Wisconsin. For more information, visit her website: Janethalfmann.com.
Laurie Allen Klein has been a freelance artist for nearly 25 years. Over the last several years, she has worked as the on-staff artist for a marine park, where she does everything from painting life-size sea animal murals to illustrating children's activity books. In addition to The Ghost of Donley Farm, Laurie has illustrated Fur and Feathers, Where Should Turtle Be?, Little Skink's Tail, Solar System Forecast, Meet the Planets, If a Dolphin Were a Fish and Balloon Trees for Arbordale. She was the winner of the Outstanding Pennsylvania Author/Illustrator Award from the Pennsylvania School Librarians Association in 2008 and is a member of the Society of Children's Book Writers and Illustrators. Laurie lives in Florida. See more of her artwork at www.lauriekleinarts.com.