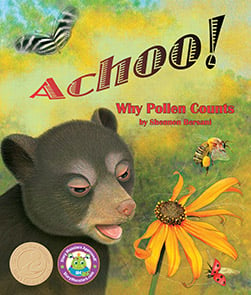 Spring has arrived and pollen is in the air. Baby Bear does not like the pollen—it sticks to his fur and makes him itchy and sneezy. He's allergic! Achoo! He just wishes the pollen were gone. When his friends gather to tell him why they need pollen, Baby Bear learns that pollen is good for the forest and provides food for many animals, including him! Pollen might be something we all love to hate, but can we really live without it? This story explains why we need it.
This fictional story includes a 4-page
For Creative Minds
section in the back of the book and a 45-page cross-curricular
Teaching Activity Guide
online.
Achoo! Why Pollen Counts
is vetted by experts and designed to encourage parental engagement. Its extensive back matter helps teachers with time-saving lesson ideas, provides extensions for science, math, and social studies units, and uses inquiry-based learning to help build critical thinking skills in young readers. The Spanish translation supports ELL and dual-language programs. The
interactive ebook
reads aloud in both English and Spanish with word highlighting and audio speed control to promote oral language skills, fluency, pronunciation, text engagement, and reading comprehension.
Written by Shennen Bersani
32 pg, 10 x 8.5, Ages 4-8, Grades K-3, Lexile: 670, AR: 3.3, F&P: N
| | | | |
| --- | --- | --- | --- |
| Hardcover | 9781628555509 | $17.95 | |
| Paperback | 9781628555592 | $10.95 | |
| Spanish Paperback | 9781628555684 | $11.95 | |
| German Paperback | 9781643514895 | $11.95 | |
| EBook | 9781628555950 | Purchase Here | |
| Spanish EBook | 9781628556049 | Purchase Here | |
| Portuguese EBook | 9781643516516 | Purchase Here | |
| German EBook | 9781643514925 | Purchase Here | |

Keywords:

adaptations, basic needs, pollen, allergies, plant parts, plant life cycle, pollinators, pollination, bees

Animals in the book:

black bear, bear, honeybee, ladybug, snow owl, spider, vole, zebra butterfly

Vetters:

Thanks to Dr. Alan Graham, Curator of Paleobotany & Palynology at Missouri Botanical Garden's Center for Conservation and Sustainable Development, for reviewing the accuracy of the information in this book.
Reviews:
Full of illustrations and excitement for young elementary students, this book provides everything the reader would want to know about pollen. With four pages of interesting facts at the end, this guide is perfect for the classroom and home. - Children's Literature
At the back of the book there is more information about pollen and pollination and even about allergies, which make Baby Bear sneeze. But my favorite part of the book is the pictures of Baby Bear, because he is really really cute! Reviewed by Raif, Age 6 - Kids Book Buzz
What makes this book fun is not only the beautiful, detailed illustrations and a cute storyline that teaches about allergies, but also the informational data at the back of the book for older readers. - Book Pleasures
Author/Illustrator Info:

Shennen Bersani is an award-winning illustrator with 2 million copies of her books cherished and read by children, parents, and teachers throughout the world. Her art delivers heartfelt emotion, the wonders of nature and science, and creates a unique joy for learning. Some of Shennen's other illustrated works include River Otter's Adventures; Night Creepers; Cheetah Dreams; Animal Partners; Astro: The Steller Sea Lion; Home in the Cave; The Glaciers are Melting!; Once Upon an Elephant (CBC Children's Choice Book Award); Salamander Season; Sea Slime: It's Eeuwy, Gooey and Under the Sea; The Shape Family Babies; and Shark Baby for Arbordale. She is also the author and illustrator of Achoo! Why Pollen Counts. Shennen lives with her family near Boston. Visit her website at www.shennenbersani.com.