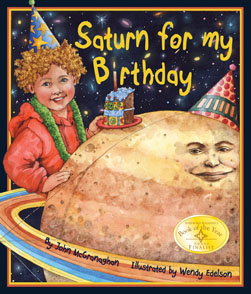 Jeffrey wants Saturn for his birthday, and he wants the moons too—all 47 of them. After all, they'll make great night-lights! But he's not selfish; he'll share the rings with some of his friends at school and with his teacher, Mrs. Cassini. Facts about Saturn are woven seamlessly throughout this funny story as Jeffrey explains just what he'll do with his present and how he'll take care of it. His dad better hurry with the order, though, because shipping might take a while. The "For Creative Minds" education section features "Solar System" and "Saturn Fun Facts."
This fictional story includes a 5-page
For Creative Minds
section in the back of the book and a 25-page cross-curricular
Teaching Activity Guide
online.
Saturn for My Birthday
is vetted by experts and designed to encourage parental engagement. Its extensive back matter helps teachers with time-saving lesson ideas, provides extensions for science, math, and social studies units, and uses inquiry-based learning to help build critical thinking skills in young readers. The Spanish translation supports ELL and dual-language programs. The
interactive ebook
reads aloud in both English and Spanish with word highlighting and audio speed control to promote oral language skills, fluency, pronunciation, text engagement, and reading comprehension.
Written by John McGranaghan, Illustrated by Wendy Edelson
32 pg, 10 x 8.5, Ages 4-9, Grades PK-4, Lexile: - 650, AR: 4.0, F&P: M
Reviews:
Overall, this book left me smiling and wanting to get a copy to share with my preschool nephews. I highly recommend Saturn for my Birthday as a playful and engaging book for young children and their parents to enjoy together. - National Space Society
The facts and activities at book's end are a more appropriate venue for specific facts, and teachers will appreciate these add-ons. - Library Media Connection
?What an excellent and innovative book!!! A must have for every library. - Pennsylvania School Library Association
Author/Illustrator Info:
John McGranaghan (Saturn for My Birthday, Meet the Planets) has always been fascinated by outer space but it was his youngest son, Kyle, who asked for the planet Saturn for his fourth birthday. That request became the inspiration for Saturn for My Birthday. John has also written stories and articles for Boys' Quest Magazine, Pockets Magazine, Columbia Magazine, and local newspapers. He is winner of the 2001 Pockets Fiction Contest. When John isn't writing, he enjoys sports and spending time with his wife and two boys. John currently works as a school counselor in the Philadelphia suburbs.Vist John's website at johnmcgranaghanbooks.com.


Wendy Edelson (Saturn for my Birthday) illustrated the first of many books, "Whose Garden" at the age of 18. Since then she has divided her time between illustrating children's books and "grown-up" books, and working on advertising and editorial projects. All of Wendy's illustrations begin with very detailed pencils drawings and are then painted mostly with watercolor with the addition of occasional bits of colored pencil and pastels; the painting is definitely her favorite part! Wendy, her husband, and 4 cats currently live on an island in the Pacific Northwest. Visit Wendy's website.