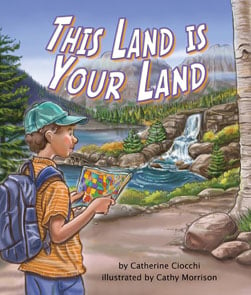 Take a trip around the world to discover a wide variety of Earth's landforms and geological features through the rhythmic verse in This Land is Your Land. On the journey encounter plains, plateaus, and rolling hills. Find out how a stream can make a canyon or lava creates an archipelago. Read aloud and discover new terrain with the flip of each page.
This nonfiction picture book with a cuddle factor and rhyming text includes a 4-page
For Creative Minds
section in the back of the book and a 36-page cross-curricular
Teaching Activity Guide
online.
This Land is Your Land
is vetted by experts and designed to encourage parental engagement. Its extensive back matter helps teachers with time-saving lesson ideas, provides extensions for science, math, and social studies units, and uses inquiry-based learning to help build critical thinking skills in young readers. The Spanish translation supports ELL and dual-language programs. The
interactive ebook
reads aloud in both English and Spanish with word highlighting and audio speed control to promote oral language skills, fluency, pronunciation, text engagement, and reading comprehension.
Written by Catherine Ciocchi, Illustrated by Cathy Morrison
32 pg, 8.5 x 10, Ages 4-8, Grades K-3, Lexile: 580, AR: 2.7, F&P: N
| | | | |
| --- | --- | --- | --- |
| Hardcover | 9781628555578 | $17.95 | |
| Paperback | 9781628555660 | $9.95 | |
| Spanish Paperback | 9781628555752 | $11.95 | |
| EBook | 9781628556025 | Purchase Here | |
| Spanish EBook | 9781628556117 | Purchase Here | |

Keywords:

landforms, archipelago, canyon, coast, hill, island, mountain, peninsulas, plains, plateau, valley, volcano, map, geography

Vetters:

Thanks to Dr. Kerry McCarney-Castle, Senior Research Geologist for the South Carolina Department of Natural Resources (SC Geological Survey), for reviewing the accuracy of the information in this book.
Reviews:
From plateaus to mountains, plains to peninsulas, archipelagos to volcanoes, landforms of all shapes and sizes come to life for children ages 4-8 in This Land Is Your Land - Colorado Country Life
This scientific educational text would be a good addition to schools and libraries. Children should enjoy the colorful illustrations and could sing along with the verses as they learn about the earth. - Children's Literature
In summary, the features of descriptive narrative verse with detailed colorful illustrations and educational extra features make this a winning choice for young readers age 7 and up. - Midwest Book Review
Author/Illustrator Info:
Catherine Ciocchi (pronounced "Chokey") has a degree in geology and teaches physical and earth science. Catherine has published several short stories and this is her debut picture book. She lives in New York with her husband and three sons. Visit Catherine's website at CatherineCiocchi.com






Cathy Morrison may have started her art career in animation, but she soon fell in love with illustrating children's books and has been doing so for 20 years. She's illustrated If a Mummy Could Talk..., Dino Tracks, Dino Treasures, Nature Recycles–How About You?, Daisylocks, This Land is Your Land, Tortoise and Hare's Amazing Race, Three Little Beavers, and Animalogy: Animal Analogies for Arbordale. She is a member of the Society of Children's Book Writers and Illustrators. Cathy works from home in a studio loft overlooking a beautiful view of the Mummy Range, on the northern side of Rocky Mountain National Park. Check out her blog at www.cathymorrison.blogspot.com.