Ocean Seasons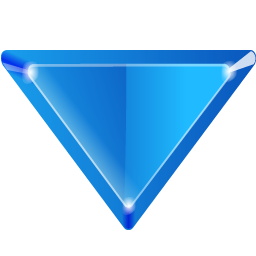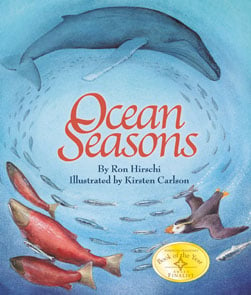 Seasons change in the ocean much as they do on land. Spring brings new plants and baby animals, summer oceans glow with sparkly plankton lights, and autumn winds blow across the open water. In winter the humpback whales migrate to warmer waters, just as some land animals move to warmer climates. The cycle begins again as they return to the northern waters in the spring. In fun, fanciful form, Ocean Seasons introduces plants and animals that are joined through the mix of seasons, food webs, and habitats beneath the waves. While set in the Pacific, similar changes occur in the Atlantic also. The "For Creative Minds" learning sections features and "Ocean Food Web Card Game."
This nonfiction picture book with a cuddle factor includes a 4-page
For Creative Minds
section in the back of the book and a 39-page cross-curricular
Teaching Activity Guide
online.
Ocean Seasons
is vetted by experts and designed to encourage parental engagement. Its extensive back matter helps teachers with time-saving lesson ideas, provides extensions for science, math, and social studies units, and uses inquiry-based learning to help build critical thinking skills in young readers. The Spanish translation supports ELL and dual-language programs. The
interactive ebook
reads aloud in both English and Spanish with word highlighting and audio speed control to promote oral language skills, fluency, pronunciation, text engagement, and reading comprehension.
Written by Ron Hirschi, Illustrated by Kirsten Carlson
32 pg, 10 x 8.5, Ages 5-9, Grades K-4, Lexile: NC 950, AR: 5.4, F&P: N
| | | | |
| --- | --- | --- | --- |
| Hardcover | 9780977742325 | $15.95 | |
| Paperback | 9781607188636 | $9.95 | |
| Spanish Paperback | 9781628553703 | $9.95 | |
| EBook | 9781607182641 | Purchase Here | |
| Spanish EBook | 9781628550955 | Purchase Here | |
| Chinese EBook | 9781628552003 | Purchase Here | |

Keywords:

seasons, behavioral adaptation, physical adaptation, ocean, marine animals, food chain, food web, seasons, life cycles, life science, ocean food web cards, seasons, migration

Animals in the book:

cormorant, crab, harbor seal, humpback whale, orca, puffin, salmon, sea otter, shrimp, urchin, zooplankton

Vetters:

Thanks to Dr. Thomas C. Eagle, Fishery Biologist, National Marine Fisheries Service, NOAA and Rita Bell, Education Programs Manager at the Monterey Bay Aquarium for verifying the accuracy of the information in this book.
Reviews:
It's a nicely written and illustrated introduction with some unique features, especially the hands-on activity. - School Library Journal
Whether used for research or to satisfy children's curiosity, this new take on the cycle of life will bring wonderment. - Foreword Reviews
Colorful illustrations and simple text show readers how new plants and animals come to life in the spring, and then blossom and grow in the summer. - Your Big Backyard
Author/Illustrator Info:
Ron Hirschi (Ocean Seasons) lives on a small island in western Washington and walks the beach most days of the year. As a biologist, he also spends much time on the water, learning about and helping salmon and other aquatic fish and wildlife. As an author, he brings the excitement of what he learns onto the pages of books for young readers. Ron has written over 50 children's books. His books have been listed as Best Science Trade Books of the year, and won the John Burroughs Nature Book among other awards. Several of his books have been featured on Reading Rainbow. In addition to writing, Ron enjoys working directly with kids and takes them outside during his many school visits. They net fish to study water quality or search for frogs and salamanders in small ponds. They also study ocean life and it was on a trip to the beach with a group of elementary students that he got the idea for this book. Ron helped to raise the funds to purchase a tidal wetland that is now an environmental learning center and critical habitat for endangered salmon. His book, Salmon, remains a fund raiser for this (Nick's Lagoon) project. Visit Ron's Website.
Kirsten Carlson is fascinated by animals and nature. Her background in biology, scientific illustration and design has given her the tools to share stories about the natural world through illustration. She believes illustrating children's books are a wonderful way to connect others to nature. Prior to illustrating Ocean Seasons, Kirsten illustrated The Giraffe Who Was Afraid of Heights, also published by Arbordale. Kirsten lives in Gig Harbor, Washington near the shores of Puget Sound. Visit Kirsten's website.