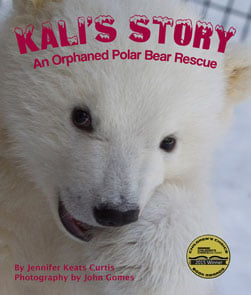 Follow the rescue of orphaned polar bear Kali (pronounced Cully) from the Inupiat village of Kali (Point Lay in English) to the Alaska Zoo in Anchorage to his new home at the Buffalo Zoo in New York with Luna, a female polar bear. This photographic journey beautifully captures the remarkable development of the cub, who initially drinks from a baby bottle, sucks his paw for comfort, and sleeps with a "blankie" as he rapidly grows into the largest land carnivore on earth.
This work of narrative nonfiction includes a 4-page
For Creative Minds
section in the back of the book and a 54-page cross-curricular
Teaching Activity Guide
online.
Kali's Story
is vetted by experts and designed to encourage parental engagement. Its extensive back matter helps teachers with time-saving lesson ideas, provides extensions for science, math, and social studies units, and uses inquiry-based learning to help build critical thinking skills in young readers. The Spanish translation supports ELL and dual-language programs. The
interactive ebook
reads aloud in both English and Spanish with word highlighting and audio speed control to promote oral language skills, fluency, pronunciation, text engagement, and reading comprehension.
Written by Jennifer Keats Curtis, Illustrated by John Gomes
32 pg, 10 x 8.5, Ages 4-8, Grades PK-3, Lexile: AD 870, AR: P 3.8, F&P: N
Reviews:
Gomes's scattered photographs create both an album like effect and a sort of visual narrative as Kali plays, explores, and naps. Though Kali's permanent home ends up being at the Buffalo Zoo, rather than in the wild, readers should enjoy seeing a grown-up Kali find a companion in another polar bear named Luna. - Publishers Weekly
The captivating photographs fill the pages. It is through additional information at the back of the book that readers learn general facts about polar bears. - Library Media Connection
Very young readers or those just listening will find Kali's story, 25 pages of pictures and commentary, a captivating journey to be enjoyed over and over again. Color photographs go hand-in-glove with the clearly written prose, making early readers feel part of Kali's rescue. - Science Books & Films
Author/Illustrator Info:
Award-winning Jennifer Keats Curtis has penned numerous stories about animals, including Creek Critters, Kali's Story: An Orphaned Polar Bear Rescue (Children's Choice Book Award Winner) and After A While Crocodile: Alexa's Diary (NSTA/CBC Outstanding Science Trade Books for Children), with co-author Dr. Brady Barr of Nat Geo Wild's Dangerous Encounter, Baby Bear's Adoption with wildlife biologists at Michigan's DNR, River Rescue with Tri-State Bird Rescue & Research, Inc.; and Moonlight Crab Count with co-author Dr. Neeti Bathala. The long-time writer's other recent books include The Lizard Lady, with co-author Dr. Nicole Angeli, Maggie: Alaska's Last Elephant and the Animal Helpers series. When not writing, Jennifer can be found among students and teachers, talking about literacy and conservation.

John Gomes' passion for photography is evident through his nature and Alaskan-focused images. A self-taught photographer going back to the "manual" camera days, John's photos capture Alaskan life including mushing (sled-dog racing) and rodeos. John has been the Alaska Zoo's official volunteer photographer for over ten years and has spent countless hours capturing magnificent images of baby and adult animals, including bears, goats, coyotes, foxes, and porcupines. To see more of John's photos, visit his website at www.akjohn.com.