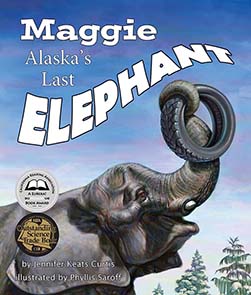 Elephants are social animals. Maggie and Annabelle used to live together at the Alaska Zoo. But after Annabelle died, Maggie was all alone. For years, zookeepers tried to keep her happy (and warm). But ultimately they sent Maggie to live at a sanctuary (PAWS). Now she is happy and at home with her new herd of other elephants. This is a heartwarming story of how zoos ensure the best for the animals in their care—even if the best is not at their zoo.
This work of narrative nonfiction includes a 4-page
For Creative Minds
section in the back of the book and a 30-page cross-curricular
Teaching Activity Guide
online.
Maggie, Alaska's Last Elephant
is vetted by experts and designed to encourage parental engagement. Its extensive back matter helps teachers with time-saving lesson ideas, provides extensions for science, math, and social studies units, and uses inquiry-based learning to help build critical thinking skills in young readers. The Spanish translation supports ELL and dual-language programs. The
interactive ebook
reads aloud in both English and Spanish with word highlighting and audio speed control to promote oral language skills, fluency, pronunciation, text engagement, and reading comprehension.
Written by Jennifer Keats Curtis, Illustrated by Phyllis Saroff
8.5 X 10, Ages 4-9, Grades K-3, Lexile: 620, F&P: O
| | | | |
| --- | --- | --- | --- |
| Hardcover | 9781607184508 | $17.95 | |
| Paperback | 9781607184614 | $9.95 | |
| Spanish Paperback | 9781607184669 | $11.95 | |
| EBook | 9781607185147 | Purchase Here | |
| Spanish EBook | 9781607185192 | Purchase Here | |
| Chinese EBook | 9781643516653 | Purchase Here | |

Keywords:

helping animals, zoo, sanctuary, elephants

Animals in the book:

elephant

Vetters:

Thanks to the following for taking such great care of Maggie and for verifying the accuracy of the information in this book: Pat Lampi, Executive Director at the Alaska Zoo; Michelle Harvey, one of Maggie's keepers; and Performing Animal Welfare Society (PAWS) staff.
Reviews:
A solid if not stellar addition to a growing picture-book genre.
-Kirkus Reviews
This is a beautiful informational story filled with rich, descriptive language that could be used not only in science to learn information about elephants and zoos, but could also be used during writing workshop too. The text is filled with rich sentences that use beautiful sensory details. A great model for young student writers. A great text to be used for so many instructional lessons. Maggie Alaska's Last Elephant is a must read.
-Amy Siracusano, Literacy Integration Learning Specialist, Maryland
This is a true story, well-told and nicely illustrated. Combine it with the story of Ivan for discussions on how we care for captive animals, and how we can do better.
- Puget Sound Council for the Review of Children's Books and Media
Author/Illustrator Info:
Award-winning Jennifer Keats Curtis has penned numerous stories about animals, including Creek Critters, Kali's Story: An Orphaned Polar Bear Rescue (Children's Choice Book Award Winner) and After A While Crocodile: Alexa's Diary (NSTA/CBC Outstanding Science Trade Books for Children), with co-author Dr. Brady Barr of Nat Geo Wild's Dangerous Encounter, Baby Bear's Adoption with wildlife biologists at Michigan's DNR, River Rescue with Tri-State Bird Rescue & Research, Inc.; and Moonlight Crab Count with co-author Dr. Neeti Bathala. The long-time writer's other recent books include The Lizard Lady, with co-author Dr. Nicole Angeli, Maggie: Alaska's Last Elephant and the Animal Helpers series. When not writing, Jennifer can be found among students and teachers, talking about literacy and conservation.
Since childhood, Phyllis Saroff has brought together her loves of science and art. In addition to Creek Critters, Maggie: Alaska's Last Elephant, Vivian and the Legend of the Hoodoos, Tuktuk: Tundra Tale and Sounds of the Savanna for Arbordale, Phyllis has illustrated nonfiction books about the natural world such as Teeth and Mary Anning: Fossil Hunter. She also illustrates for children's magazines, wayside signs and other educational material. Phyllis works digitally and with oil paint. Phyllis lives in Maryland with her husband and two dogs. Visit her website at saroffillustration.com.